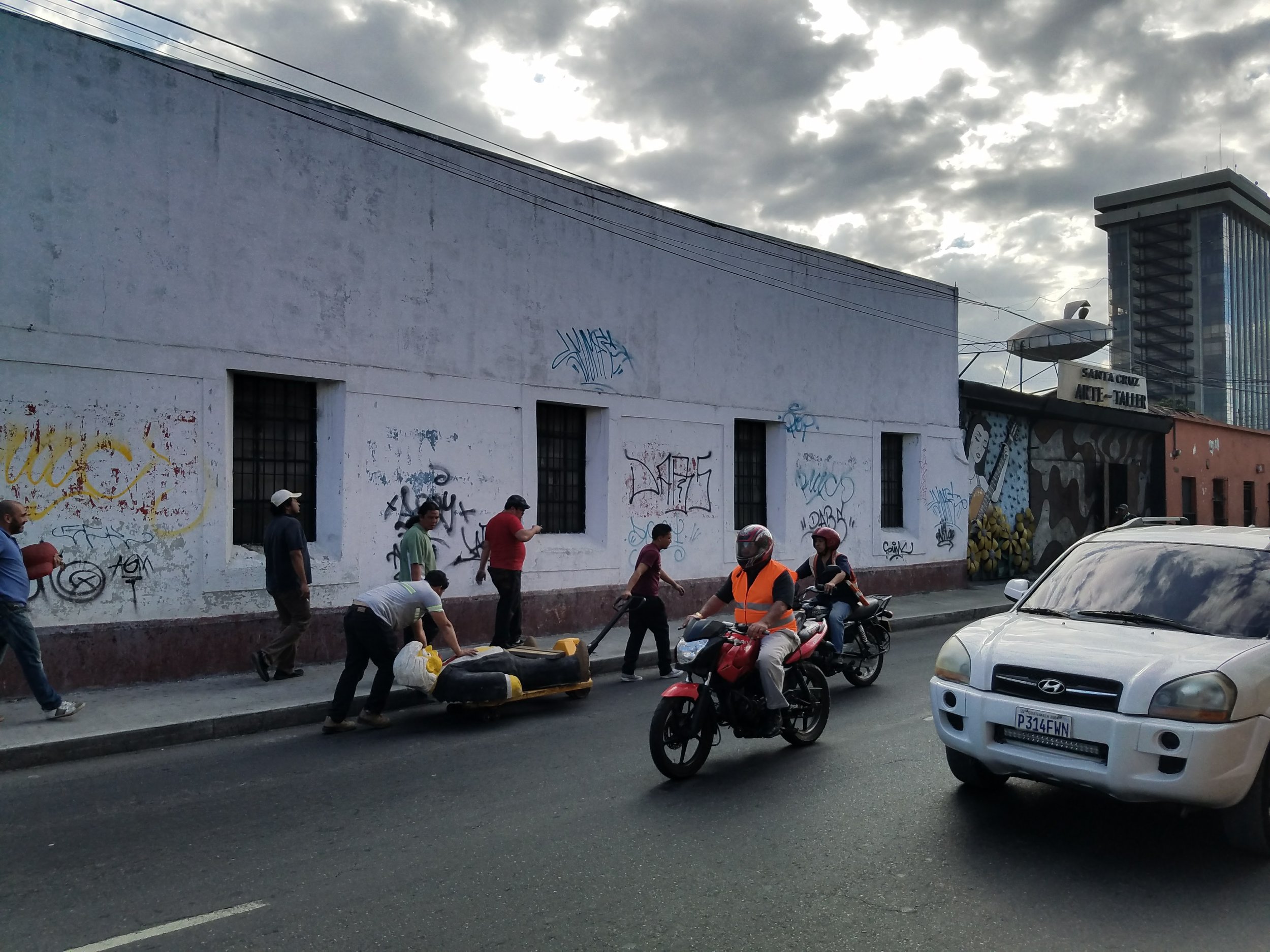 1. Look at your friend in disbelief. Ask him, "you want me to do what?"
2. When he confirms that he has larger-than-life-size concrete sculpture of Donald Trump, in a drunken state of repose near a similarly large-scale sculpture of a drunken Homer Simpson, and he wants help abandoning them on a nearby street, consider how proud Marie Kondo would be that you got rid of your own drunken celebrity concrete sculpture collection ages ago... This does not bring me joy. Goodbye.
3. Avoid. If you don't look at the sculpture, it may make the whole Trump thing go away, a bad dream set to the tune of The Simpsons. Work on other projects, read books, watch the entire run of The People vs. OJ Simpson. When your friend checks in again after a few days--conveniently from London--realize that you are both avoiding drunken Donald. Suck it up and start figuring out some logistics. The sculpture weighs at least a ton, maybe two.
4. Come up with a backup plan in case you are arrested. Your friend suggests twirling your (blonde-ish) hair and pretending not to speak Spanish, should the police ask any questions while you are moving drunken Donald to his final resting place. Tell your friend you would prefer not to go to Guatemala jail. Be reassured by how hard he laughs at this idea.
5. Call another friend. Ask for help finding a forklift. Recruit as many people as you can find, preferably ones who have a sense of humor. Preferably ones who, if the concrete sculpture lands on a finger, won't mind having fewer fingers.
6. When the forklift and friends arrive, have a small panic attack about lost fingers. Or maybe about the inauguration, which is in two days. Or maybe about the future of Black Lives Matter and, even more importantly, of black lives; the dissolution of women's rights, the EPA, the NEA, the NEH, National Parks, health care, and science; the potential of nuclear holocaust; the certainty of massive deportations and a border wall; the increasing state sanctioned violence against black and brown bodies; the torpedoing of the U.S. public educational system; the new confidence of white nationalism and the KKK and the gun lobby; a soon-to-be president who brags of sexual assault and the sinking feeling that you have family who voted for him.
7. Then, take another deep breath, and remember that you are in Guatemala, and you feel much safer there than you do in the U.S. right now. (here insert statistics about violence in Guatemala).
8. Take photos as your friends risk life and limb to get the Donald onto a pallet jack, all the while making obscene gestures and laughing hysterically. They may or may not have been drinking too. Hell, we could all use a drink: the inauguration is in two days.
9. Stop traffic as they haul drunken Donald (and Homer) down a busy street.
10. Actually twirl your hair when the police stop your friends. Realize that the police are interested in acquiring the Homer Simpson sculpture for their personal collection of drunken concrete sculptures. Note that they show no interest in the Trump or in sending you to Guatemala jail.
11. Find a corner nearby that is marked by gang graffiti, discarded liquor bottles, and so many bodily fluids.
12. Deliver Donald to this appropriate resting place, alongside Homer.
13. Jump up and down on Trump's head, and have a major realization about effigies and their affective power. You feel relief for the first time in months. You join the busloads of people who are passing by in a cathartic laugh, a shared sense of disbelief. You haven't laughed so hard in a long time.
14. Laugh even harder when the Homer Simpson sculpture disappears in under 24 hours and the drunken Trump remains passed out on the street, covered in gang graffiti and bodily fluids. Apparently, no one wants him, and--guess what--you all still have all your fingers and so, for this small moment, you can breathe and you will be okay.
15. Get up the next morning and count your fingers all over again. Survival is the starting point for major undertakings, such as dumping drunken Donald Trump sculptures. And take heart every time you pass that grotesque fallen monument to your homeland. Perhaps in the falling, you will learn new life skills, new ways of working around, new modes of being together that you couldn't have predicted, perhaps you will find new alliances and tougher conversations, a renewed energy for doing the seemingly impossible, and an unexpected impulse to laugh, loud and hard until tears roll down your face.
- LALW
*With special thanks to Stefan Benchoam and Proyectos Ultravioleta, artists Radamés "Juni" Figueroa and Melvin Laz, Jorge de León and a crew of intrepid friends.